The Crème De La Crème Of Sydney Lockdown Takeaway & Pick Up Options
Hello lockdown my old friend. Sydney is back in the thick of COVID-19, as Delta cases continue to escalate, and Premier Gladys Berejiklian issues some hard-to-swallow restrictions. If this current lockdown is anything like the last substantial run to smack Sydney senseless, some of the city's best restaurants and bars are going to be bunkering down and switching to Sydney lockdown takeaway and pick up options for the next few weeks. Here's the best of 'em.
And we aren't just talking regular Uber Eats menus; many of Sydney's finest are putting their best foot forward when it comes to make sure you aren't living on a poorly balanced diet of carrot sticks, Four'n Twentys, and whatever subpar attempt at sourdough you tried baking for a few days last year.
Short of heading to Redfern Convenience Store (which is still open, by the way – essential service and all) and stockpiling all the nostalgic 90s snacks you can find, your best option to avoid complete culinary deprivation is to hit up the following restaurants, bars, and businesses (10km rule considering) so you can take those cancelled dinner plans and recreate them at home.
Support Local
Needless to say, supporting the local hospitality industry at a time like this, especially over the next few weeks, is important. Sydney has some of the best restaurants and bars in Australia; we want them to still be there at the end of this, and be able to keep their staff employed. Below, I've rounded up some of the most popular options that have been keeping locked-down folk well-fed since the recent Sydney lockdown was announced.
However, don't consider it a definitive list. You can still jump on Uber Eats and order takeout from your favourite local. I'm not going to sit here listing every restaurant that's doing delivery via those services, but if there's any you feel I've unfairly overlooked please hit me up on my personal Instagram (@chrisdsingh) and give me a heads up. This list will be updated throughout the lockdown
Big Sam Young & Grace Chen's Dining Kits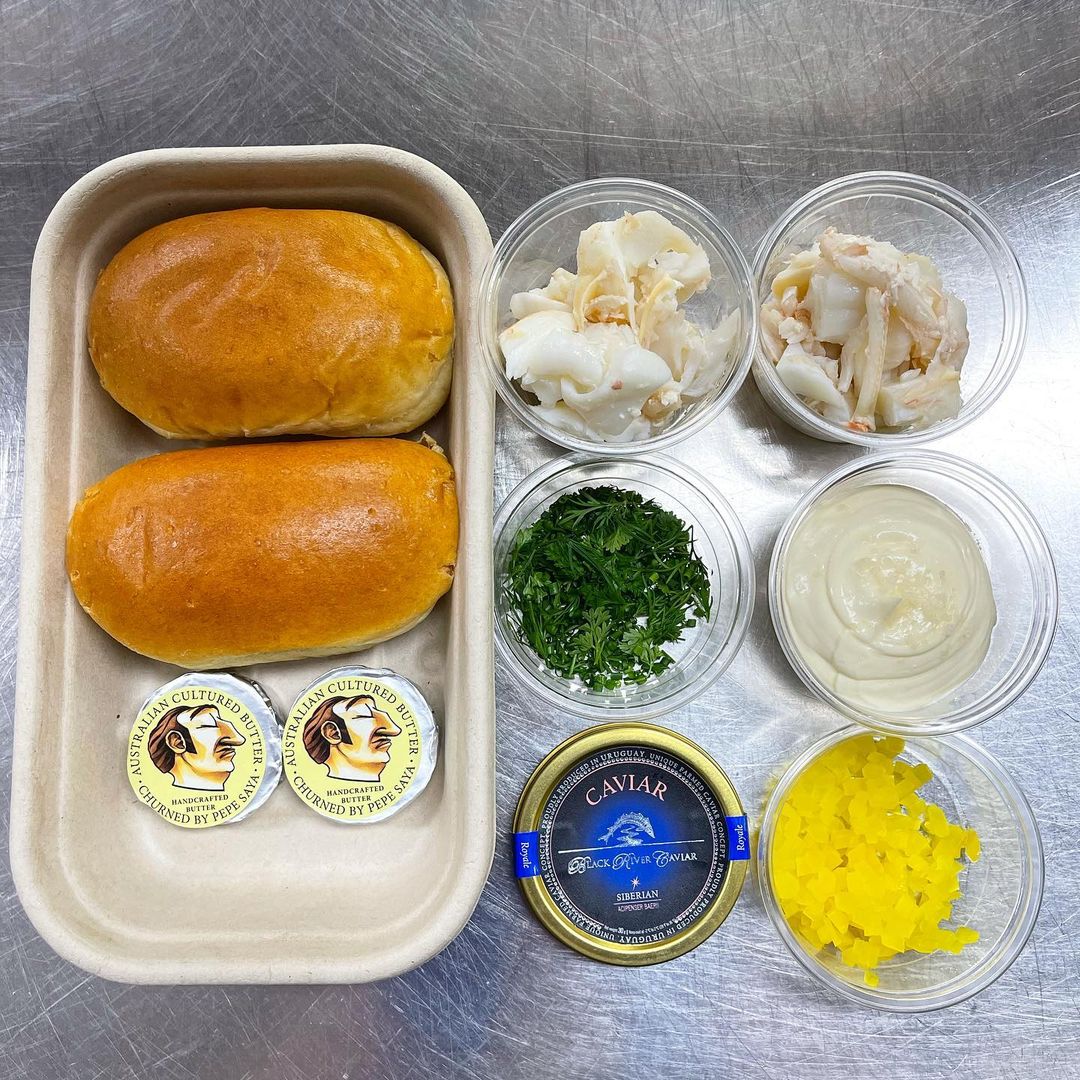 Ex-Merivale chef Big Sam Young has been operating as a chef-for-hire for awhile. And his private chef'ing business, alongside fellow chef Grace Chen, has been banging on social media for over a year now, thanks to a series of pop-ups and private dining sessions. The last time Sydney spiralled into lockdown, the duo were considered MVPs amongst many of Sydney's more discerning foodies. They're back at it again, in a number of ways.
First you're going to want to order up Big Sam Young's signature Mapo Tofu, where pork and silken tofu are served with steamed rice, cabbage, radicchio, and salad. It was a hit last year, delivered through Harvest Bites, and it's looking like lightning strikes twice. It's sold out at the moment but keep checking back, or keep your eye on @bigsamyoung to see what else they've got going on during Sydney lockdown.
You might also want to pay particular attention to their live lobster roll kits they've been delivering. Brioche, pepe saya, caviar, and fresh lobster from Red Claw Seafoods – an obvious choice for something a bit more opulent. Young and Chen are also offering up deliveries of truffle pasta all over Sydney via his official website, and they've also been slinging around top-grade wagyu lasagne this past week.harvestbites.com.aubigsamyoung.com.au